b.r.h.m. book nook vol. 1
A journey to familiarize myself with contemporary women writers, the stories they tell; collecting bits of myself along the way.
Wild, free, dangerous, malleable GIRLS. Cline's Manson family inspired novel tells the story of Evie's journey down the rabbit hole of attachment and idolization.
"Poor Sasha. Poor girls. The world fattens them on the promise of love. How badly they need it, and how little most of them will ever get. The treacled pop songs, the dresses described in the catalogs with words like 'sunset' and 'Paris.' Then the dreams are taken away with such violent force; the hand wrenching the buttons of the jeans, nobody looking at the man shouting at his girlfriend on the bus"
The Abundance, Annie Dillard
Some of the best prose I've had the pleasure of reading. This book reminds me of how beautiful IT all is. The intersection of the natural world and human spirit; how it all tangles together in the ether.
"The universe has continued to deal in extravagances, flinging intricacies and colossi down eons of emptiness, heaping profusions on profligacies with ever-fresh vigor. The whole show has been on fire from the word go. I come down to the water to cool my eyes. But everywhere I look I see fire; that which isn't flint is tinder and the whole world sparks and flames."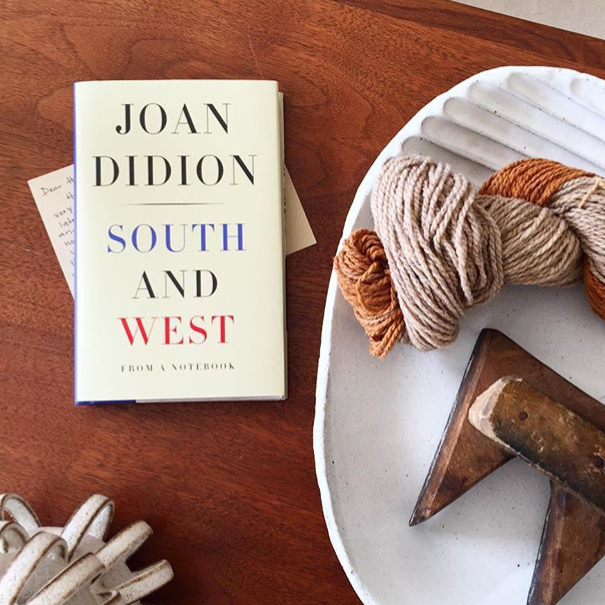 South and West, Joan Didion
I tore through these sharp, highly relevant essays in about a day. South and West while written about the 70's remains pertinent to our current political and cultural climate.
"I had only some dim and unformed sense, . . . that for some years the South and particularly the Gulf Coast had been for America what people were still saying California was, and what California seemed to me not to be: the future, the secret source of malevolent and benevolent energy, the psychic center."
image @lilystockman
Commonwealth, Ann Patchett
Spanning five decades this book tells the story of the joining of two families- the Keatings and the Cousins. The children bond over a shared disillusionment of their parents, becoming ever entangled in each others' narratives.
"All the stories go with you, Franny thought, closing her eyes. All the things I didn't listen to, won't remember, never got right, wasn't around for. All the ways to get to Torrance."
"Sex and Rage delights in its starry, sensuous, dreamlike narrative and its spontaneous embrace of fate, and work, and of certain meetings and chances. We witness Jacaranda moving beyond the tango of sex and rage into the open challenge of a defined and more fulfilling expressive life." (source: goodreads)
"She figured that any day now she was going to start feeling the simple composure of normalcy that Jane Austen's heroines always sought to maintain, the state described in those days as "countenance," and later as "being cool."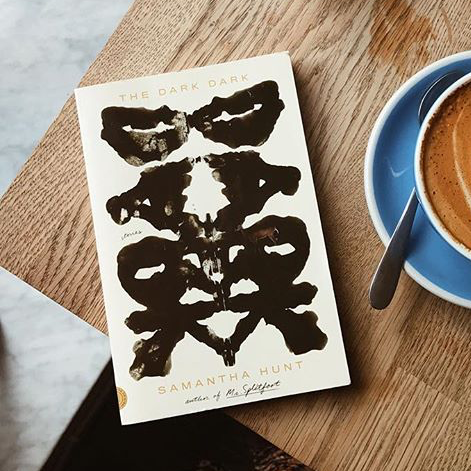 The Dark Dark, Samantha Hunt
Collection of short stories. Her writing is so deep and murky. She doesn't just lead you to the grave, she digs it up and rearranges the pieces. Not reality, but how reality can feel.
"This family is an experiment, the biggest I've ever been part of, an experiment called: How do you let someone in?"
image @coffeeandbookss
A memoir by one of my favorite artists. She explores her family and personal history in connection to her own artistic practice.
"Photographs supplant and corrupt the past, all the while creating their own memories. As I held my childhood pictures in my hands, in the tenderness of my "remembering," I also knew that with each photograph I was forgetting."
image http://randomphoto.blogspot.com/2015/08/sally-manns-hold-still.html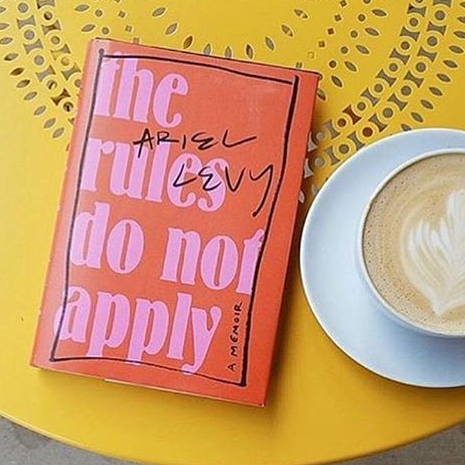 The Rules Do Not Apply, Ariel Levy
Creating your own rules and a lesson in accepting ownership of them. Everything will be OK.
"I wanted what we all want: everything. We want a mate who feels like family and a lover who is exotic, surprising. We want to be youthful adventurers and middle-aged mothers. We want intimacy and autonomy, safety and stimulation, reassurance and novelty, coziness and thrills. But we can't have it all."
image @belletrist
What its like to be 15. THE PILLS, the desire to one-up on the suffering level. How sometimes the circumstances determine who gets out alive. Wanting to be liked, loved, desired, remembered.
"Privilege is something to be aware of, to fight to see beyond, but ultimately to be grateful for. It's like a bulletproof vest; it makes you harder to kill."
image @belletrist
Slouching Towards Bethlehem, Joan Didion
Essays divided into 3 sections each with their own unique identity; Lifestyles in the Golden Land, Personals, Seven Places of the Mind. I have a certain fondness for the second section, Personals, which deals with subjects such as self respect, keeping a notebook, and the puzzling inability to truly "go home".
"So the point of my keeping a notebook has never been, nor is it now, to have an accurate factual record of what I have been doing of thinking. That would be a different impulse entirely, an instinct for reality which I sometimes envy but do not possess."
Stay With Me, Ayobami Adebayo
A story of birth and death, modernity and tradition in Nigeria. Adebayo's prose is full of life, with her use of folktales and allegories adding a touch of magic to a story otherwise rooted in reality.
"If the burden is too much and stays too long, even love bends, cracks, comes close to breaking and sometimes does break. But when it's in a thousand pieces around your feet, that doesn't mean it's no longer love."
image @belletrist
This Close to Happy: A Reckoning with Depression, Daphne Merkin
An honest and vulnerable account of the author's journey with depression; she speaks about her mental health in a way that few of us are brave enough to do. Merkin's story helped me to appreciate my own mental health journey and acknowledge my own resilience.
"If I can't quite declare victory over my depression, I am giving it a run for its money, navigating around it, reminding myself that the opposite of depression is not a state of unimaginable happiness but a state of approximate contentment, of relative all-right-ness."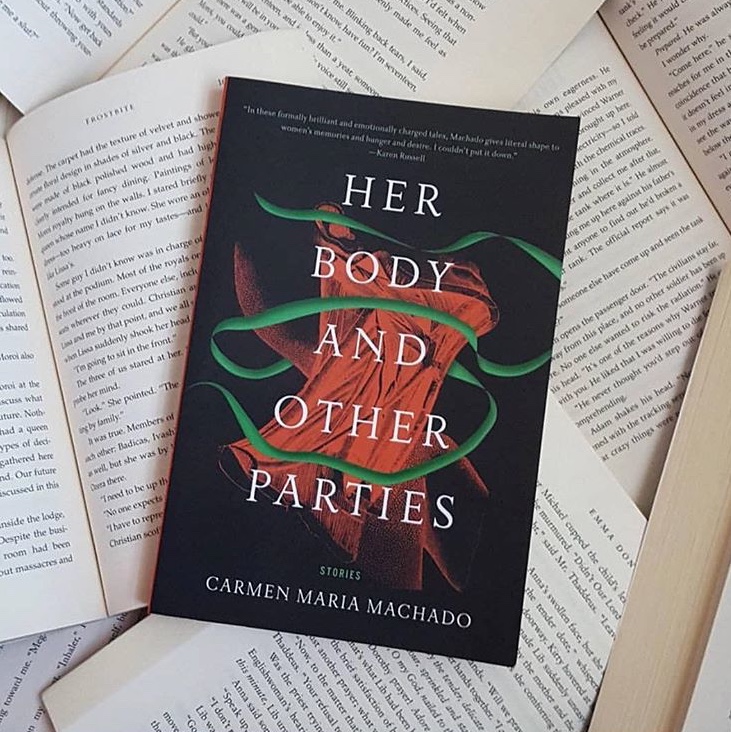 Her Body and Other Parties, Carmen Maria Machado
A collection of short stories about the varying forms of violence that affect women's bodies. So formally playful and genre bending... This collection is one of my favorites. Simultaneously otherworldly and all-too-real.
"Many people live and die without ever confronting themselves in the darkness."\
image @booksforthesoul
The Immortalists, Chloe Benjamin
Benjamin tells the story of the Gold children who in their youth visit a fortune teller who gives them each the date of their death. Whether the siblings fulfill, or create their prophecies, this book gives credence to the power of words and the notion that "thoughts have wings".
"Most adults claim not to believe in magic, but Klara knows better. Why else would anyone play at permanence- fall in love, have children, buy a house- in the face of all evidence there's no such thing?"
image @thelibraryhop